Director: Mohamed Diab
Writer: Mohamed Diab
Starring: Nelly Karim, Hani Adel, El Sebaii Mohamed
Country: Egypt
Running Time: 98 minutes
Year: 2017
BBFC Certificate: 15
A big hit on the film festival scene this ruck in a truck depicts the best and worst of human nature. Its 2013, Egypt is in chaos as the Muslim Brotherhood is ousted from power by the army and the two different sides come head to head in street battles across Cairo.
During the demonstrations, anyone on the street suspected of causing trouble is rounded up and bundled in the back of a riot van, the first two in, are a photographer and a reporter. They are left unattended and start to shout and bang on the van walls to gain attention. Unfortunately the crowd they attract decide that they are Muslim Brotherhood or American agitators and start to stone the van. Unbelievably the police decide to throw some of the attacking crowd in the van with the two prisoners. To make the situation worse, the cops add arrested Muslim Brotherhood members to the already chaotic melee, at one point a policeman who tries to calm the situation gets locked in. Inside the van there's no water, it's boiling hot with no bathroom facilities except for a plastic bottle and through the oppressive windows all that can be seen is violent demonstrations. When a young girl is bundled in the van, we believe she was dragged to the protests by her controlling grandfather, but find it was her that wanted to go and reluctantly he went to protect her. The girl faces further humiliation when she needs the toilet but is unable to leave the riot truck and her grandfather pays the ultimate price for his kindness.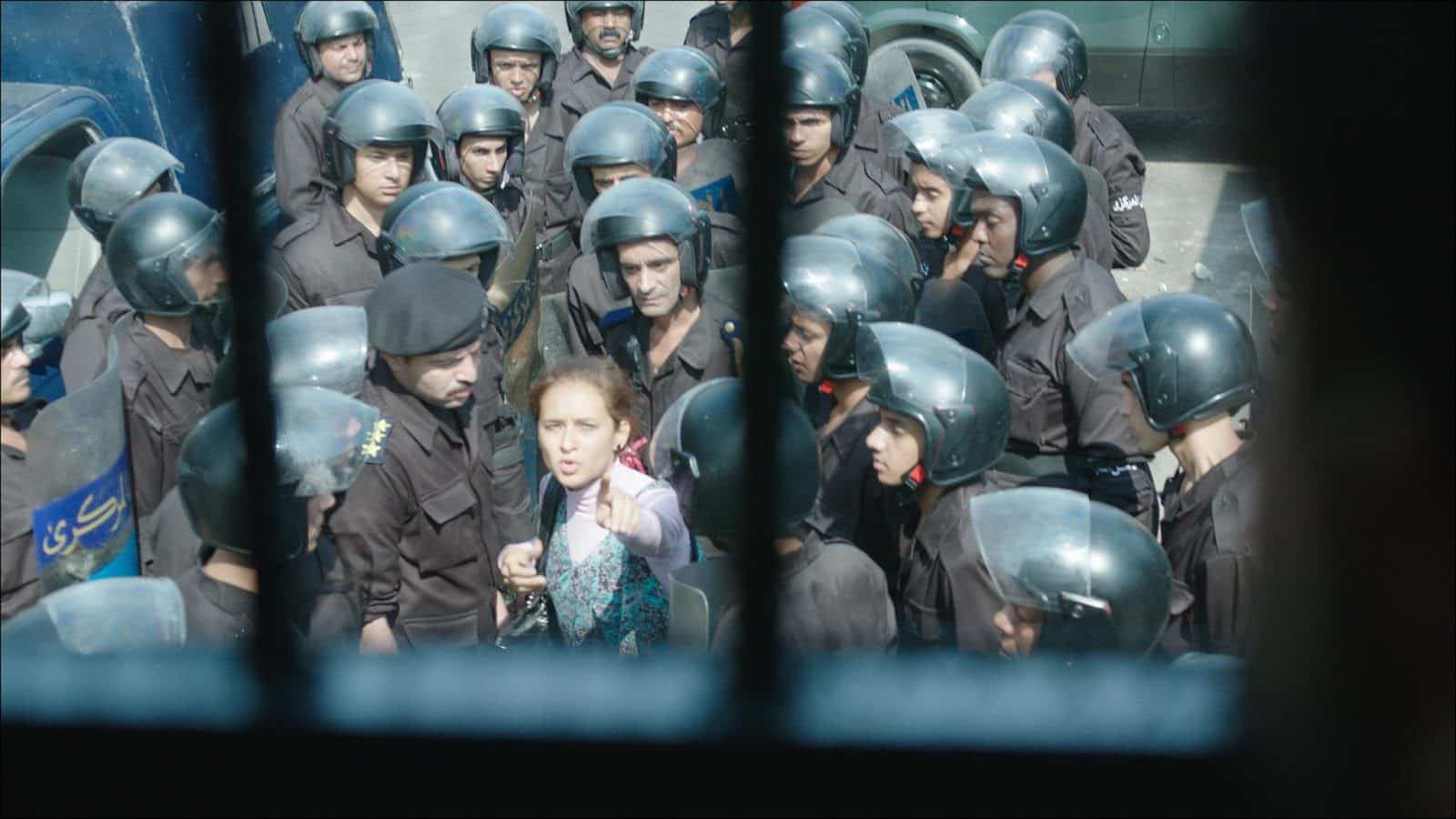 Clash is an extreme and astonishingly credible record of an important chapter in world history, made even more fascinating when you learn that the film makers were really caught up in uprisings and came across demonstrators while making the movie. A tense start made me dread the atrocities I was about to witness, yes there is violence but this film is more about human interaction than all out brutality. Clash explores the relationships between conflicting groups aiming for a common goal, with an insight into the horrors of pack mentality. Clash is remarkably realistic; you are quickly immersed in completely believable riot scenes, with a documentary or a live news report mood. The multi-layered complexity of this film explores the sometime disastrous consequences of the individuals' actions on a large scale and at a personnel level.
Clash comes out in Dual format on the 14th August, released by Arrow Academy. I reviewed the DVD version, which was of fine audio and visual quality and contains a riot of extras.
Blu-ray special edition contents includes a high definition Blu-ray (1080p) presentation, original 5.1 audio, new optional English subtitle translation, making-of featurette, Trailer and reversible sleeve featuring alternate artwork. Also included is Tales from the Van, a new interview with director Mohamed Diab and with the first pressing only is an illustrated collector's booklet featuring new writing on the film by critic Michael Brooke.
The DVD special edition contents includes a high definition transfer, original 5.1 audio, new optional English subtitle translation, making-of featurette, trailer and reversible sleeve featuring alternate artwork. Also with this version you get Tales from the Van, the new interview with director Mohamed Diab.
Clash is sensational and intelligently constructed with a compelling commentary, rich in intense imagery and cinematic elegance which will satisfy the most hard-core of cinephile.